Tri-State Provides LED Lighting To Improve NOI for 200 Park Avenue
Tishman Speyer chooses Tri-State LED Tubes to reduce operating expenses for its premier NYC commercial office building.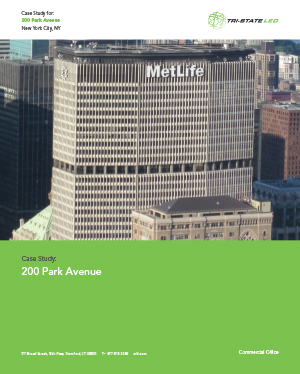 Over $31,000 saved annually.
The payback period for the retrofit investment was only 1 year.
Efficiency for the retrofit areas was improved by 55%.
A wide range of product benefits include operational efficiencies, increased safety, and improved sustainability.
Our convenient and durable solutions require no rewiring.
"Installation of Revolution Lighting's LED solutions contributes toward best-in-class office environments for our tenants, while staying ahead of the market in terms of technology adaptation, offering high-quality lighting solutions that deliver superior efficiency, longevity and warranty."
Director of Sustainability, Tishman Speyer
Jonathan Flaherty
Get updated when we publish new case studies, and other helpful resources.